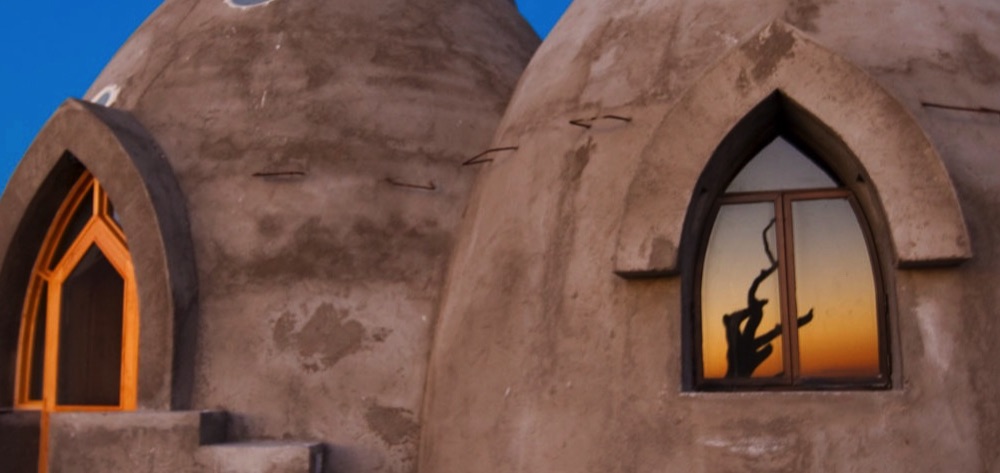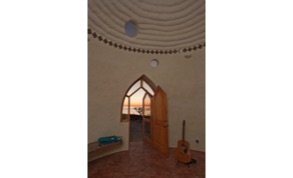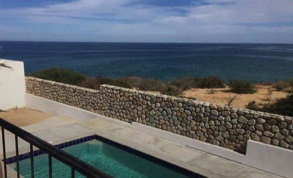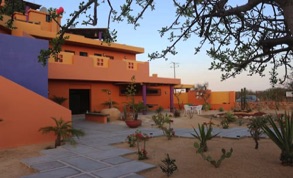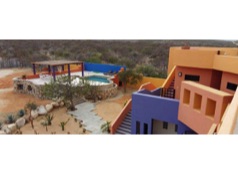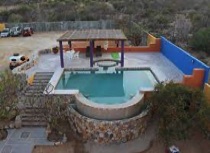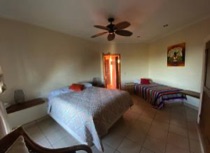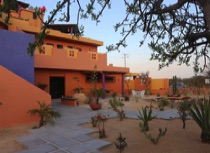 Lodging for Hootenanny Two
I have booked a vacation rental called 'Casa Luna Rosa' 2 houses from my house. This place holds 12 people in 4 bedrooms with 7 beds and 6 baths, and depending on who commits to coming, you can stay and the cost will be split between whomever shares it. You can review the property on Airbnb here.
I also have a block of rooms reserved at the Terrazas hotel a 10 minute walk away. Rooms here will cost from $63 (single queen bed); $69 (2 queen beds) to $91/night (triple room: queen + double).
El Cardonal is a lovely and safe little village. Come visit.
Hotel Terrazas is a great local spot with a bar and restaurant serving good Mexican and international food daily, breakfast through dinner. They have a game room, pool, and good party spot on the 'deck' above with great views of the Sea of Cortez. This is where we will host the Thanksgiving celebration for the Hootenanny Two.
To get to our house in El Cardonal from the Cabo Airport: Take the main highway (Highway 1) heading north away from Cabo and towards La Paz. Drive for about an hour until you see signs for Los Barriles. Take a hard right turn from the main highway into Los Barriles and head down the hill towards the sea. There is one speed bump (tope) in front of the Los Barriles Plaza and then another one half way down the hill.
On the left is the grocery store called Chapitos. We usually stop here to buy food and supplies, and you should probably do the same. They accept credit cards or Pesos.
Farther down the street it divides and then dead ends. Follow this road as it veers into a left turn, a tope, then a right turn, a tope, across a dry river bed (and becomes dirt for about 200 yards), two topes, another dry river bed, up a gentle hill where you will return to the paved road and head up into the hills.
It winds into the mountains and cuts back to the sea at El Cardonal (about a 20-30 minute adventure).  It's a good idea to drive slowly and carefully on this road as it is not always well maintained. The entire voyage on the 'El Cardonal Road' road is 15 km, and it dead ends at the 'coast road'. At the dead end, the 'town' of El Cardonal is to your right, with the 'central plaza' about 1/4 mile (south) from the dead end. 
To get to our house turn left at this dead end onto a dirt road. Drive about 100 yards.  Turn right onto the fourth dirt road heading toward the beach where you will see a large rock with a blue and white painted seabird.
Follow this dirt road heading east to the beach. You will see a blue bodega (small rectangular shed) with an old small satellite dish on top of it, and the domes are clearly visible. Open the wire and wood gate leading into our land to the left of the blue bodega. Welcome to La Casa de las Domas.
Taxis and Bus from Cabo to El Cardonal Octavio runs a transportation business from El Cardonal, and has elegant vans that can fit a dozen people. He speaks fluent English, and he will pick you up from the airport and stop in Cabo or Los Barriles for supplies for a fee (US$130 for a gus full, give or take). If you use his services you may not need to rent a car. Contact him via email at: turispancho65@gmail.com.
There is a taxi driver out of Los barilles who is cheaper, though I haven't used him often, he only charges $90 for the ride. WhatsApp him or call him at ‭+52 624 150 6175‬.
Another taxi driver in the area is Isabel Gonzalez <isabelgr1106@hotmail.com> who charges only $70 for up to 3 people for taxi service to/fro SJD (the airport).
Eco Baja Tours offers bus service from the La Paz and Cabo airports (terminal T1 or T2 ) to Los Barilles each day, and this gets you close, so taxis are cheaper. There is no bus service to El Cardonal from Los barilles. Last I examined, the buses run from Cabo (SJD) to Los Barilles daily 12:30, 2:30, and 5:30. Book online at: https://ecobajatours.com.
Bus: The local bus is called Aguila To catch the bus, you have to either taxi to the highway from the airport (about a half mile drive) or walk out of the airport to the bus stop on the highway. This is how most workers get to work, it' a fine bus (modern and clean) and travels pretty much on their scheduled time. This bus will get you to Los Barilles on the Main Street, where you can get a cheaper taxi, call us, (or hitchhike) to El Cardonal.
On your way from the airport to El Cardonal
El Cardonal, the town where our house is located, is a small village with two small stores, so you may want to consider shopping for food and any supplies you may need in either Cabo or Los Barriles before you arrive at our house.
"Cabo" is actually two towns, Cabo San Lucas and San Jose del Cabo. Cabo San Lucas is at the southern tip of the Baja Peninsula and to the South of the Airport . San Jose del Cabo (where the airport is located) is slightly north of Cabo San Lucas. So when someone says something is in "Cabo" make sure you know which one they are talking about.
There is a large Sorianna (like a giant Safeway) only 4 miles south toward San Jose del Cabo from the airport. We usually go here to stock up for long trips. There is also a Mega, WalMart, and a Costco in Cabo San Lucas. Mega is a Mexican version of WalMart. All are good stores to find just about everything you may need for your stay (food, sunscreen, reef walkers, etc.). The Sorianna store is the easiest to get to from the airport. If you want the Costco or WalMart experience, then simply head west toward Cabo San Lucas on The Corridor and you'll get to Costco in about 10 miles and WalMart in about 13 miles from where the 'fee road' connects to the Corridor highway.
Los Barriles is a medium sized town (about 3,000 people) located about a half hour south of El Cardonal between the airport and our house. It has a decent grocery store called Chapitos which is on the main street in town shortly after you turn off from the main highway. Chapitos is fine for most of your needs (and it even has a decent pharmacy as well as some clothing, shoes and toys), so we usually shop there instead of going into Cabo because it is a lot easier to deal with Los Barriles than it is to deal with Cabo. Se the section below 'Restaurants' for local food. There is also a woman in El Cardonal, named Francisca, that you can hire to make meals for you, but you need to give her a couple of days notice so that she can prepare everything.
Banks/Money
In Los Barriles there is a Bancomer bank where you can use your ATM card to get Pesos across the street from Chapitos. If the bank is not accepting US debit cards, try to choose 'Savings account' (instead of checking or debit) and that sometimes works. If Bancomer won't work for you, then the Mar de Cortez hotel in Los Barilles has an ATM that does work, but it charges ~ US$8 for ATM withdrawals. Get Pesos in either an ATM terminal at the Cabo airport or in Los Barriles. After you do your grocery shopping there is not much need for cash in El Cardonal since there are only three restaurants and two small stores. There are no banks or ATMs in El Cardonal, so plan to get all the money you think you will need in Los Barriles. In a pinch most (but not all) people will accept dollars, but it is always better to have Pesos.
Local Helpful People in El Cardonal Samuel Lucero runs a small property management business in town, and he speaks English well. He should be your first person to go to if you need any kind of assistance. You can find his office in the middle of town next to the raised cement soccer field, and it is a small house. OR, tell the folks you are looking for Samuel for the Dome Houses, and they'll find him. Samuel also has a key, and he can be reached via email at: samybajasur@hotmail.com and via phone at: +52- 1-612-141-1465 and mobile (when possible): +52- 1-612-103 -1388. He runs a 'Concierge' service where you can book all sorts of activities in the area, and he is honorable and fair. Check out: http://samuelpropertyservices.com and feel free to make booking requests here and he'll confirm with pricing and availability.
Alphonso, the man who runs the small bar 'Vecino's' (meaning 'neighbors') which is a 5 minute walk from the Dome. He is a great guy, speaks fluent English, and can assist with any need.
Francisca, married to Octavio (see below), is a great cook, and she will make food for you if you give her about 1-2 days notice. If you ask her to make a dinner for you it will likely last for 2-3 meals. She usually charges US$10-12 per person. She lives on the south side of town on the side of the road away from the beach. Her husband, Octavio, speaks fluent English, but she only speaks Spanish. Francisca will give you cooking lessons if you are interested. You can contact her at: turispancho65@gmail.com.
Octavio, married to Francisca, speaks fluent English, and he will pick you up from the airport and stop in Cabo or Los Barriles for supplies for a fee (US$90/per person give or take). If you use his services you may not need to rent a car. Contact him via email at: turispancho65@gmail.com.
Jose Martin owns the construction/hardware store in town, and he helped build our house. He speaks some English, but understands more than he speaks. He is the "can do/fix it" guy in town should you have any kind of problem with the house. He will either fix it himself or send someone over to take care of it.
Local stores
There are two main stores in El Cardonal. In the middle of town, on the paved road (1/4 mile from our home), two stores are located, each with a 'Pacifico Light' sign. They carry basic food and some fresh produce, meat and cheese, also some basic household items like soap, laundry detergent, toilet paper, etc.
Local Restaurants
There are four restaurants, two bars and a tortilleria in the area. One of the restaurants is open air and only set up in the middle of town next to the fenced, raised cement soccer field when it is open on Saturday and Sunday nights. It's named 'Tacos Yolanda (after the cook and wife of the fisherman, Antonio, who catches the fish) but everyone calls it The Taco Stand. On the main road in town there is also a vendor that serves quite good burritos most nights. There is a nice restaurant/bar (Cielito Lindo) on the corner as you come into town that is attached to the hotel (las Terrazas). And there is an *excellent* restaurant called la Hornilla on the main road to Los Barilles just 100 yards up from Cielito (our favorite, awesome food!). All of these places are easy to walk to from the dome home. There is a fifth restaurant (Restaurant Dona Maria for breakfast and lunch) ~ 1.5 miles south of town down the coastal road in the neighboring community of Algodones. Another 4 miles further is the Punta Pescadero Resort which has a great bar and decent restaurant. All restaurants serve similar Mexican style food. The taco stand restaurant serves bottled water and sodas, and if you want beer you have to bring your own. The restaurant in Algodones has a full bar and serves a great margarita. There is a small cement tortilleria on your left (past the construction store) at the bottom of the hill as you walk into town. There is also a restaurant six miles south of that one down the coastal dirt road at the resort hotel called Punta Pescadero. It is set up on a cliff and has a great view. This restaurant serves breakfast, lunch and dinner, and it has a full bar. A bar called Vecinos ('neighbors') is around the corner from our house. It's nice and has a pool table and a foosball table.
Medical attention
There is no real medical care at this time in El Cardonal. The closest clinic is in Los Barriles, and it takes 20-30 minutes to drive to it. There are two clinics in Los Barriles, the local, public Mexican clinic, and a private one called, AmeriMed (has a new name now). The staff at AmeriMed speaks English. Both are on the main street near Chapitos. There is a pharmacy in Chapitos. You do not need a prescription from a doctor to buy medicine in Mexico.